Zip Code Filters for Locations & Staff
Show clients the staff and location closest to them right as they're booking
Giving your clients more ways to find your business
Your business attracts customers who don't have a bunch of spare time to spend finding your locations and staff. Make the services you offer look even better by adding a filter to your online scheduler today, and make your business easier to find and use.
Google maps is embedded in our location filters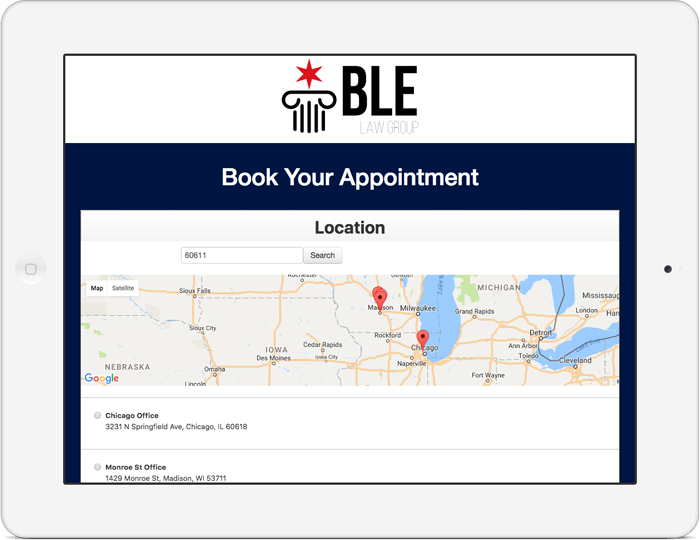 When you add a zip code filter to your business locations, your web scheduler will generate a Google map that appears and shows the locations you have around the areas your clients desire in real time as soon as they enter a zip code.
Can be customized to fit your customers' needs
Choose what your clients see when you add a zip code filter to your web scheduler. You can change the filter label, the text appearing on the search button, and the hint displayed directly below the filter all when you create the filter. In this way you can make sure that whatever you add fits your business to a T!
MAKE YOUR BUSINESS EASIER TO FIND
Get your web scheduler today and add ways for customers to find you! Start your 14-day free trial. No credit card required.
Try It Now
INCREASE THE SPECIFICITY OF YOUR SEARCHES
Allow your clients to customize their searches for your business and staff
Learn more
You can add other filters to your staff
Sometimes you will want to add a filter to something else. Unlike when you add a filter to locations, when you filter by staff you aren't limited to just zip codes. You can screen the staff that show up by whatever criteria best suits the needs of your business.
Just go the staff filters page on your TimeTap account and you will find an area where you can add whatever new filter you want to your staff. Then type in whatever criteria you want to use into the text box and update your staff with the properties to be filtered by.
Be more likely to keep the customers you already have
By making your business easier to locate, you increase its stickiness. If the services you offer are more convenient than your competition, your customers will have even less reason to switch providers.
ADD A FILTER TO YOUR WEB SCHEDULER TODAY
Get your web scheduler and make use of our filters today! Start your 14-day free trial. No credit card required.
Try It Now